"I was privileged to receive the Best Emirati Employee Award by His Highness Sheikh Mohammed bin Rashid Al Maktoum"
---
Women in Business: Reem AlFalasi
Nationality: Emirati
With nationalization quotas playing a more significant role in recruitment across all sectors and industries with every passing year, we continue to work with professional, well educated and highly experienced Arab Nationals across the Gulf. At the senior levels we are seeing more loyalty and commitment to employers than ever before as well as a real desire for career development and a constant challenge.
As women play more and more of a role in the business world across the Gulf, we wanted to look at what it means to be a woman in the world of work here, find out more about their experiences and see what advice they would offer to other GCC nationals looking to develop their own professional career.
---
Reem, thanks for taking time out of your busy schedule and joining us today. Can you start by telling us about yourself, background, and your role at Cigna?
Hello Alice, thanks for interviewing me and for establishing this great platform for featuring successful Arab Women in the Gulf. My name is Reem AlFalasi and I am 27 years old. When I see my career throughout these years; I would describe myself as a hard-working, multi-tasking and a goal-oriented individual who has a strong willingness in achieving her goals and always striving for success. I am currently working with Cigna as a Business Development Manager for Government Solutions.
I started my career as an Underwriter working for a General Insurance company and moved to Cigna 6 years back in the same position. I have 8 years of experience in the Insurance Industry and in Underwriting in specific. This also shows how much I enjoy working in the private sector specifically in the Insurance Industry. On 2nd February 2020, I was privileged to receive the Best Emirati Employee Award by His Highness Sheikh Mohammed bin Rashid Al Maktoum, and it was a proud moment for me!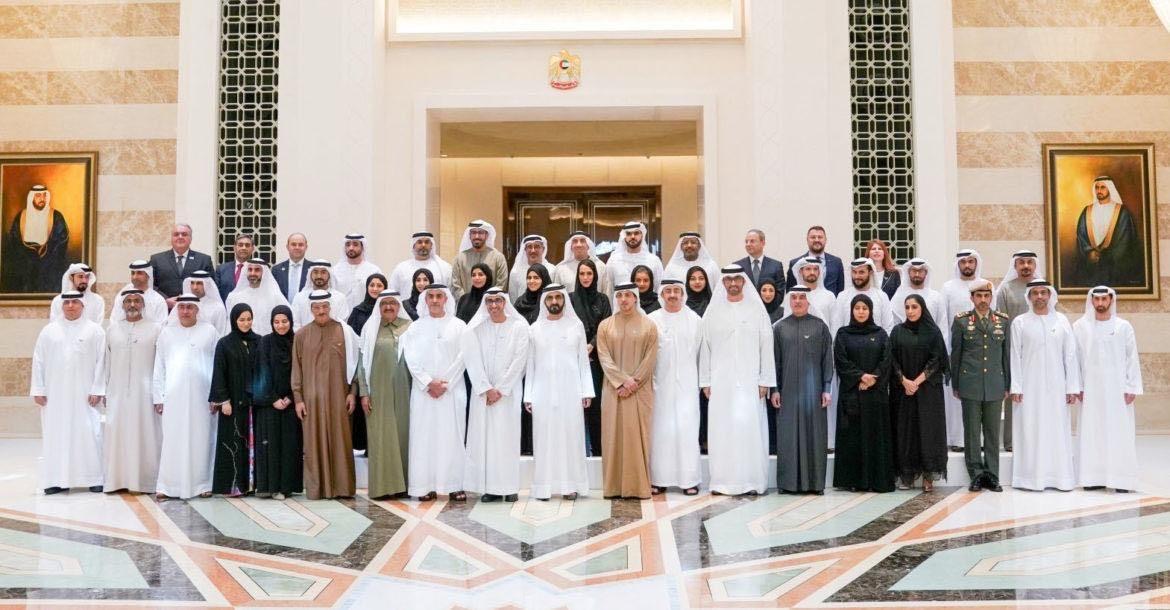 I am also an Artist and I focus on abstract and Arabic calligraphy. I was interviewed by a local Emirati TV channel to promote the upcoming Emirati Artists in Dubai.
That's amazing Reem! Congratulations on the Best Emirati Employee award, what an achievement! You've done so well, so how did you get where you are today? Who has helped you along the way?
I started working at the age of 19. I used to be a full time employee during the day and a student at HCT in the evening. Simultaneously, I was working towards completing the professional insurance certification from the Chartered Insurance Institute, UK. This was for a period of 4 years where my sheer determination and hard work reaped the reward of successfully completing my Bachelor's Degree in Business specializing in Banking and Finance with a distinction and achieving the Cert CII designation in Insurance.
Focusing on three things at the same time is not an easy task! It requires a lot of effort, ability, various sets of skills and courage as you will be faced with numerous challenges and obstacles while working towards your goals. I believe setting a goal is the first step towards achieving an outcome and overall success. As well, having a positive and a growth mind set and treating every challenge as a learning experience. At times, failure will be bound to happen, and that's where I have learnt to never give up and keep trying. I always motivate myself to work hard as I see success and reward in every effort I put into. My biggest motivator is His highness Sheikh Mohamed Bin Rashid when he said: "نحن شعب لا نرضى إلا بالمركز الاول". [Roughly translated as 'We are a people who should be satisfied only with first place.'] I've come to realize that there isn't any shortcut to achieving success, but hard work which is what has got me to this point.
My family is my greatest support and will always be till the end. They have set the foundations for me that has helped me successfully achieving my goals throughout my career. Their guidance and advice is what has made me today – strong, humble, and an independent woman. Looking at them is what has motivated me during times when I've been tasked with challenges and obstacles. Not to forget my manager, colleagues and my close friends who's support has made things go a little easier for me. I appreciate and thank them for being there at all times.
It's definitely important to have such strong and supportive friends and family, and easy to see the influence they've had on your life. Next question, why is gender balance and having a more diverse workforce important, especially in senior management teams?
Every individual has a different perspective, capability, ideas and life experiences which enables them to perform better. An organization with a diverse workforce will lead to better performance at the business level which will eventually increase the overall profitability of any company.
Women now are meeting and exceeding international standards. The UAE and its leaders are supporting and empowering women in every aspect. I am really proud to be part of this great country where we as women are treated equally as men and are given all the opportunities to do our best. Yes, it's conferences like the recent Global Women's conference held here in Dubai that showcase how well the UAE is doing with equality in the workplace. So, what are some strategies that can help women achieve a more prominent role in their organisations?
I would say I'm where I am today because I believed that nothing is impossible and we can make the impossible; possible if we strive for it. You have to take the first step, make an attempt to try, without which you wouldn't know what you are good at. I work hard and I'm always proactive and if something doesn't work I try to find alternatives to make it work. Being creative and introducing new ideas to improve processes in your organization will always help.
When I initially joined the insurance sector, I only thought it revolved around the products I was aware off at that point of time. Less that I knew there are numerous different types of insurance covers such as property insurance, public liability insurance, money in transit insurance etc. It is only because of getting the exposure and working on such products that helped me learn how important and vital knowledge and experience is.
Never judge a book by its title. Don't say I am not going to perform this task or I am not good at this or I will never enter this industry etc. you have to get out of your comfort zone in order to learn otherwise you will be missing out a lot of opportunities.
That's a good point Reem, it is so easy for us to stay in our comfort zone and tell ourselves that as women, we won't reach that level. So generally speaking, what is an area of the corporate world that you still think needs improvement?
Many organizations miss the importance of employee satisfaction. Employees play a vital role in any organization's success story. If you have happy employees this will increase the performance and the productivity of your company. When we say employee satisfaction it splits into two aspects, firstly, the emotional aspect related to the job overall, people and the place. Secondly, the rational aspect related to the pay and job responsibilities. If the employees are content with these two aspects, you will be the most successful organization. We all want to see reward and recognition in everything we put our efforts into. A thank you or well done does wonders to a person and encourages him/her to do more.
I have been part of the Employee Engagement Committee at Cigna. As a committee member we are responsible of making sure that employees are satisfied with their job. We as a committee have to come up with ideas on how to make employees engaged and keen to come to work every day which will be through physical activities, mental and emotional management. These kind of things will always help in keeping employees happy.
Very true. I think often companies focus so much on recruiting; they forget about the importance of retention – it's a lesson for everyone. What is the most important lesson you've learned in your career to date?
I have learnt so many lessons throughout my career. I will mention a few of them to you:
First of all, never give up even if you fail, push yourself out of your comfort zone and learn from that experience.
Secondly there is nothing impossible, you can achieve the impossible with your hard work and determination.
Thirdly, make learning part of your life as it helps you grow personally and professionally, I personally believe that learning never stops after you graduate from high school or university or if you reach a certain age. We learn something new every single day whether knowingly or unknowingly.
Last but not least, be patient and this is a very important point! It will take time to see the result of your hard work. I've been working for almost 8 years now and it is my hard work and determination that landed me the title of the Best Emirati Employee in the private sector.
Thanks Reem. I'm sure those lessons will certainly be helpful for many of our followers. So other than the lessons you've learnt along the way, what one thing do you believe has been a major factor in you achieving success?
Challenging myself all the time and knowing that I will be able to stand by it, has helped me achieve my goals. I knew that working as a full time employee and completing my Business Bachelor's degree at a young age, (and also choosing a finance major), would be difficult. However, I accepted the challenge that I put forward for myself and graduated with distinction and obtained the Certificate in Insurance from the Chartered Insurance Institute in the UK.
It really sounds like your self motivation and hard work has propelled you to where you are today! If you could give one piece of advice to your younger self would it be that? Or something else? Is this the same advice you would give now to young Emirati women out there?
So my advice to everyone who is starting their career… Firstly, set your goals - know what you want and what you want to achieve. Prioritize your goals, from the most important ones to the ones that're least. Secondly, you have to know how manage your time which is really important. Additionally, love and enjoy what you are doing as if you don't, you won't be able to give in your 100% potential.
These three things have helped me throughout my journey, as I knew what my goals were, I prioritized them, managed my time accordingly and loved what I was doing!
Thank you so much Reem, for your time and for sharing your experiences with us today. We wish you all the best in all your current and future ventures!
Reem's LinkedIn Profile - https://www.linkedin.com/in/reem-alfalasi-cert-cii-dlhi-65194699/
If you would like to see our company updates and industry insights, follow our LinkedIn page here.